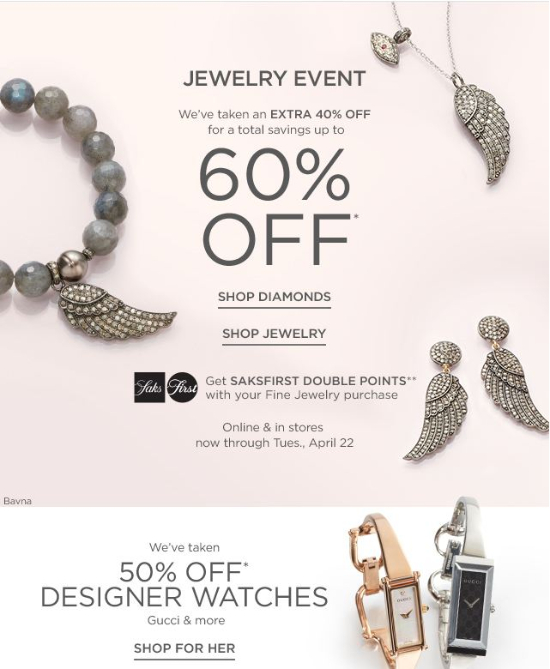 We've taken an Extra 40% Off for a total savings up to 60% Off* Diamonds and Jewelry
50% Off* Designer watches- Gucci & More.
Now through Tuesday, April 22nd.
Total savings off market price. The Market Price is the regular price at which we've normally sold that item or, if we have not previously sold an item, the price at which that item (or a comparable item) is normally sold in the market. Online, all offers listed are not extra discounts, but refelct reductions already taken. In store, discount applied to lowest ticketed price. All offers exclude Extraordinary Value Merchandise. Extraordinary Value Merchandise is specially priced merchandise highlighted by special in-store signage or called out online. Additional exclusions apply. Visit store or see site for details. No adjustments to prior purchases. All offers valid at saksoff5th.com and in Saks Fifth Avenue OFF 5TH stores only. Prices may differ online and in Saks Fifth Avenue OFF 5TH stores. Returns on saksoff5th.com must be made within 30 days of purchase by mail or in-store.
Selections vary in stores and online.
Sign Up For Our Newsletter!